Education and Early Childhood Learning
Manitoba Pupil File Guidelines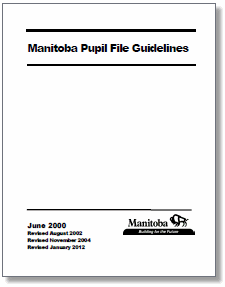 These documents are available for download as a PDF

files.
Manitoba Pupil File Guidelines (221 KB)
Revised January 2012
This document is provided to assist school boards in carrying out their duties and responsibilities respecting student information.
Manitoba Pupil File Guidelines - Transfer Request Form (31 KB)
The Transfer Request Form has been developed to assist school principals in meeting the requirement to provide the pupil file of a pupil who has transferred to another school to the receiving school.
Note: These are guidelines only, and the specific provisions of the relevant Acts and Regulations should be referred to at all times.
See also: Guidelines on the Retention and Disposition of School Division/District Records