Implementation of Grades 11 and 12 Physical Education/Health Education
A Policy Document
This document is available for download as a PDF

file.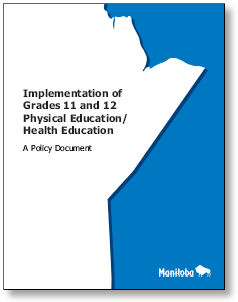 Full Document (329 KB)
This policy document supports and provides direction for the implementation of the Grades 11 and 12 Physical Education/Health Education (PE/HE) credits, and addresses the following areas:
Implementation Timelines
Credit Requirements for Graduation
Curriculum Design and IN-Class and OUT-of-Class Delivery Model
Safety and Liability for OUT-of-Class Delivery Model
Evaluating and Reporting the Grades 11 and 12 PE/HE Credits
Furthermore, for all those involved, the roles and responsibilities are outlined.
Feedback Form
(

47 KB)
Manitoba Education welcomes your response to this document and invites your feedback.