Education and Early Childhood Learning
Integrating Aboriginal Perspectives into Curricula
A Resource for Curriculum Developers, Teachers, and Administrators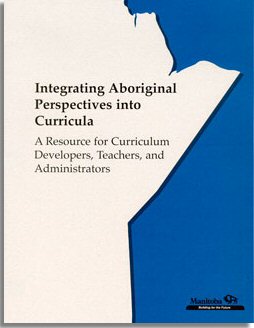 This document is available for download as PDF

files.
Integrating Aboriginal Perspectives into Curricula
A Resource for Curriculum Developers, Teachers, and Administrators (381 KB)
This document is intended to assist Manitoba Curriculum developers and educators to integrate Aboriginal Perspectives into new and existing curricula. It provides direction for the integration of Aboriginal Perspectives within the various curricula taught in Manitoba classrooms.
Manitoba Education and Early Childhood Learning welcomes your response to this document and invites you to complete and return this feedback form (

55 KB).