Physical Education/Health Education
Grade 9 Physical Education/Health Education (10F)
A Course for Independent Study: Field Validation Version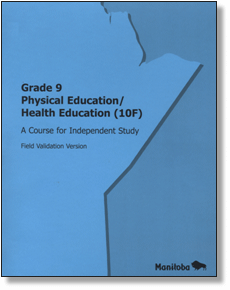 Course Preview (

477 KB)
For the first time, Manitoba Education and Training has developed a distance learning course for Grade 9 Physical Education/Health Education (PE/HE).
This combined physical education and health education course teaches the concepts and skills for active healthy lifestyles and includes a physical activity component. Students plan and record their participation in physical activities of their choice. This course gives students the opportunity to learn more about themselves and enables them to make more informed decisions about a healthy active living throughout their lives.
The course is divided into 10 modules. The odd-numbered modules emphasize physical education, while the even-numbered modules emphasize health education.
Independent Study Option courses may be purchased for reference from the Winkler office at 1-204-325-1700. These courses include course material only and not resource packages. Exams and answer keys will not be included.
Refer to Distance Learning for more information about the course. A French version is currently under development.
---