Assessment and Evaluation
Provincial Results – Grade 3/4 Assessment
The primary purpose of the Grade 3/4 Assessment is to improve student learning by identifying, early in the school year, students' strengths and needs in key competencies in numeracy and reading and using this information to guide instructional planning.
The assessment implemented early in the school year is a classroom-based approach to assessing foundation knowledge and skills of students in reading and in numeracy. Provincial policy outlines the critical competencies to be assessed, and teachers select or develop a variety of strategies to assess students' performance. Information is gathered by the Grade 3 teacher (or by the Grade 4 teacher in the French Immersion Program), as well as the Grade 2 teacher or school specialists, as appropriate. Teachers use criteria (provided by the department in the policy document) for reading and numeracy to evaluate student performance.
See the Grade 3/4 Assessment website for details.
Additional analyses, including results disaggregated by certain population groups, can be found on the site High School Graduation Rates and Student Achievement Statistics.
---
The Scale
Students assessed as meeting expectations include those who exceed expectations for the competency. Students assessed as "Needs some help…" require some extra attention, support, or effort to meet end-of-grade learning outcomes. Students assessed as "Needs ongoing help" will likely not meet end-of-grade learning outcomes without an intervention aimed at building important knowledge and skills in the competencies. In addition to the levels noted above, there is also an "out of range—below" performance level; therefore, the results presented below do not add up to 100 percent.
---
The Results
Patterns of performance seen in the following results depend, in part, on approaches teachers use to assess their students. Different strategies may be used, and these can vary from teacher to teacher and over time. Though this does not compromise teachers' interpretations and use of results to support their students' learning, it will add to random (that is, not clearly related to an identifiable cause) fluctuations in the aggregated results presented below, particularly for the smaller student populations in the Français Program and in the French Immersion Program. In these cases, year-to-year variation should be interpreted with caution, with more emphasis placed on changes that are consistent over several years.
The Results below are based on the following numbers of students in each school program for 2017-2018.
Student Numbers Based on School Program, 2017-2018

| Grade/Program | Students |
| --- | --- |
| Grade 3 – English Program | 12,152 |
| Grade 3 – French Immersion Program | 2,479 |
| Grade 3 – Français Program | 482 |
| Grade 4 – French Immersion Program | 2,344 |
Provincial Results in HTML Format
Provincial Results – English Program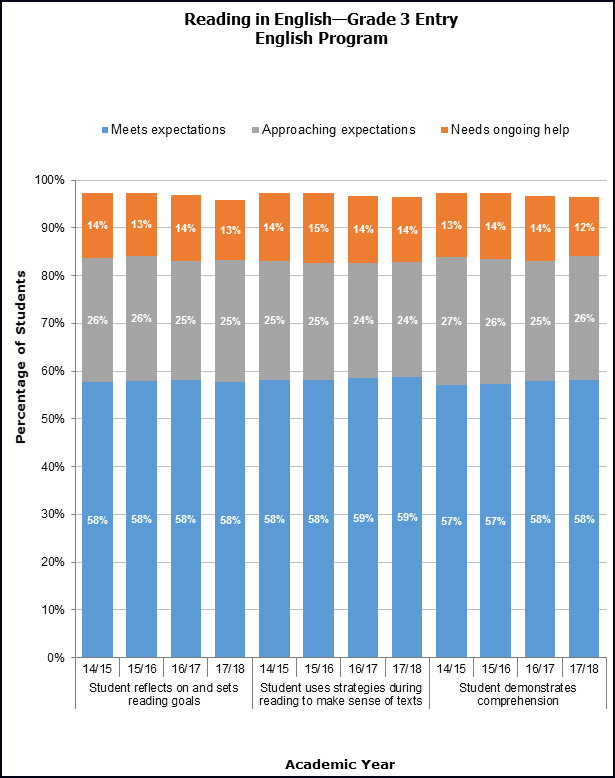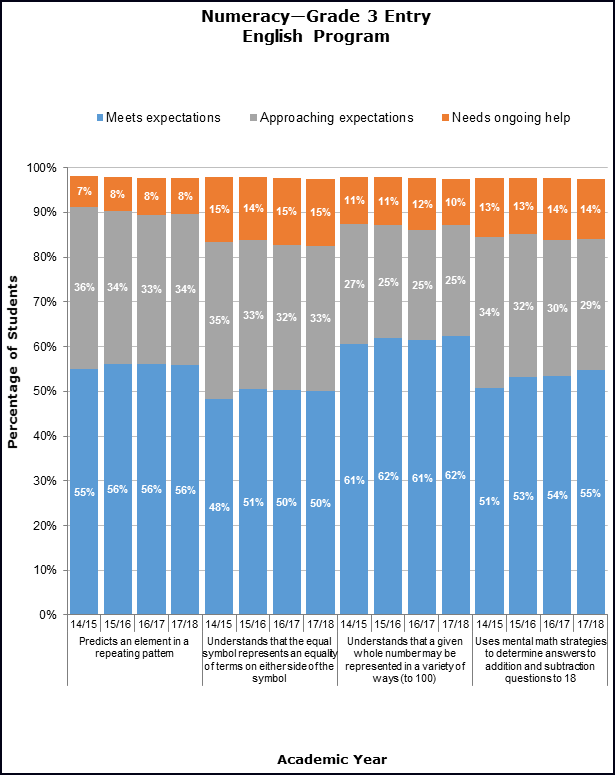 Provincial Results – French Immersion Program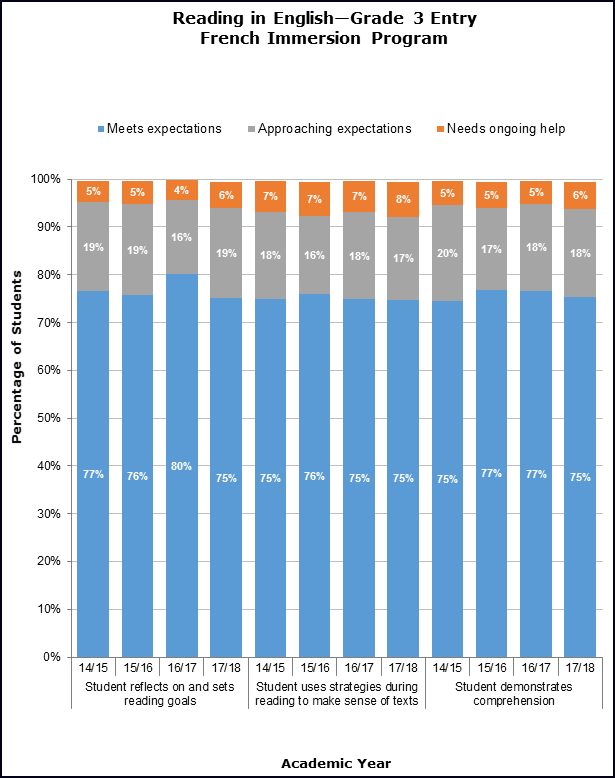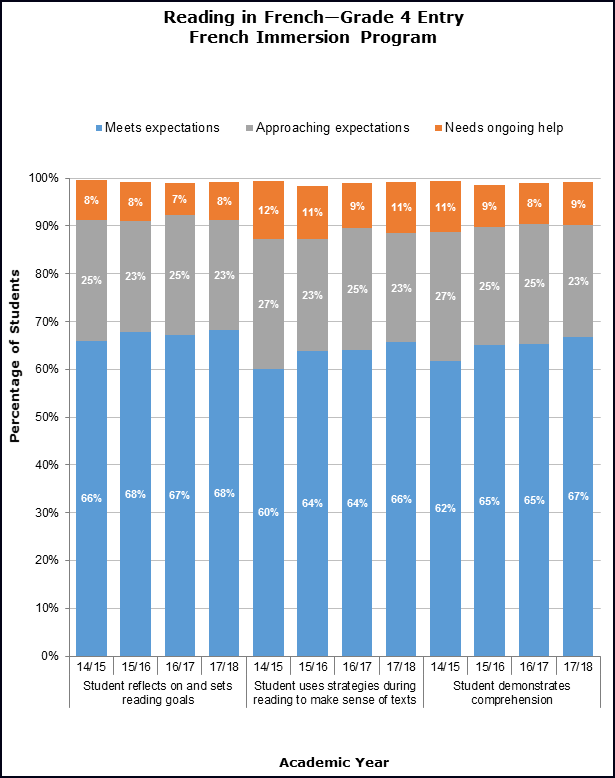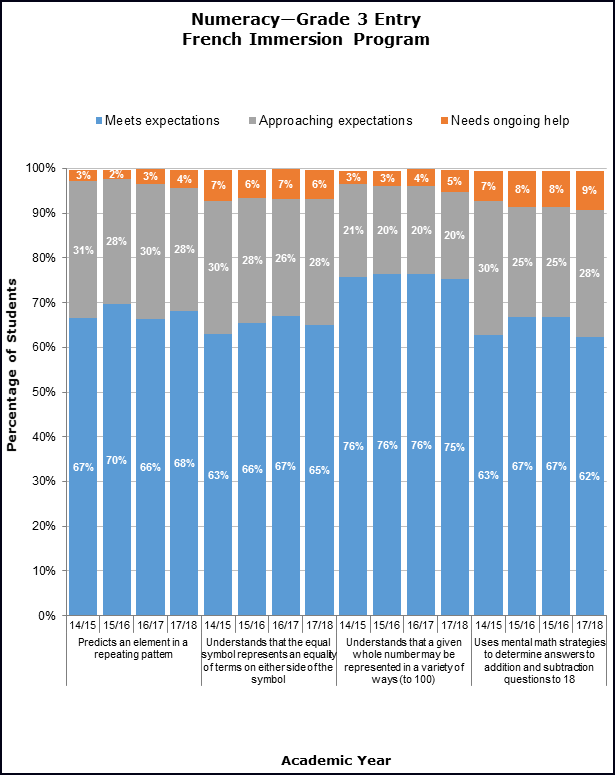 Provincial Results – Français Program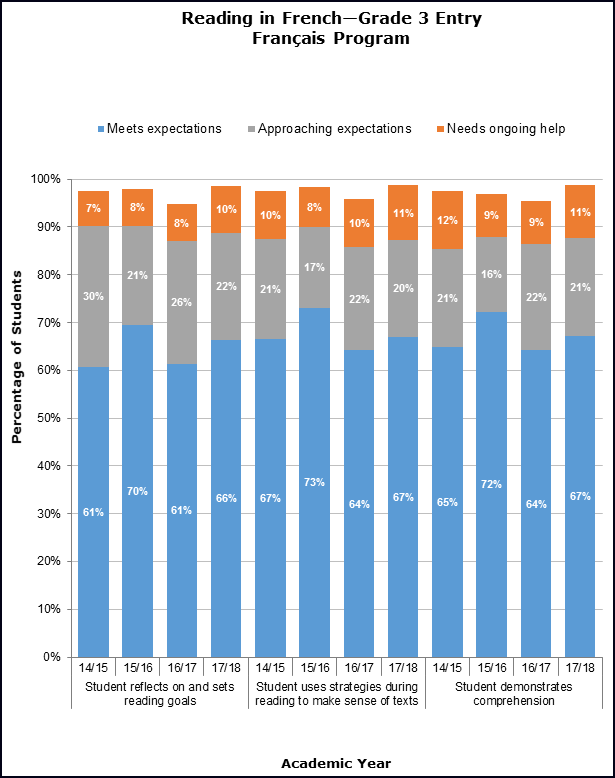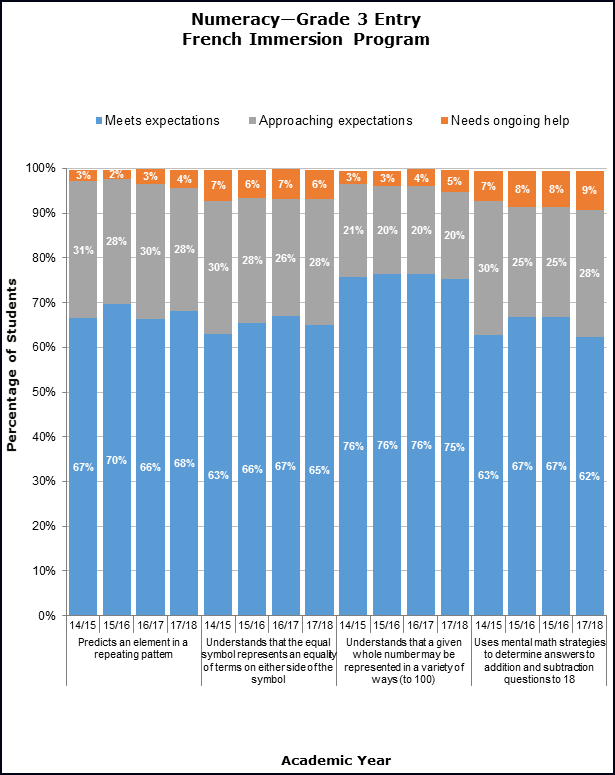 ---