Education and Early Childhood Learning

Mike Johnston – Nakshin Gsha Mskokmigas Bzhiki Inini (Standing Strong Red Bison Man of the Eagle Clan)
April 2023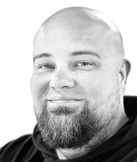 Home Community:
Winnipeg, Manitoba – Treaty 1
Cultural Identity:
Red River Métis
Current Position:
Middle School Classroom Teacher & Land Based Learning Specialist with the Louis Riel School Division
Education/Training:
B. Ed – University of Manitoba, M. Ed – University of Manitoba
Roles/Responsibilities:
Classroom Teacher (Grade 7/8), Land Based Learning Educator, Indigenous Education instruction and support (including community Indigenous/reconciliation art projects, Indigenous instruction & support, student Indigenous Leadership Team)


"You are the only one who will ever be capable of living, writing, and speaking the poem that you are, so speak it proudly and honestly. Listen passionately to the poems lived by others. Know the value of both."
What obstacles did you face and how did you overcome them?
My biggest obstacle was knowing and accepting myself as an Indigenous educator. Growing up, my grandparents felt they had to hide who we were. It has taken work to grow as a person and educator, to plant the seeds of discovery and growth in myself to accept  my Indigenous roots. Now I feel authentic telling my story and the story of my people. I felt "not Indigenous enough." I overcame this through community. I connected to people who welcomed me and connected me with myself and with people like me. Caring Elders invited and guided me in ceremony, gifted me my Spirit name, and spoke to the importance of living as who I really am proudly.
What or who inspired you to really go after the profession you are in now?
Education was always important in my home growing up. I knew from an early age that I wanted to be part of the adventure of empowering students to see what they could become, to write their own stories and to write the next chapters of our school systems in new languages.
What critical choices or decisions did you make that helped you get where you are today?
My critical choice was to embrace the Indigenous educator that I am. These past few years have really opened some incredible doors for my own professional development and growth which has made me into a completely different human being in this work because I opened myself up to embracing my Indigenous roots.
Message of Encouragement:
It is my honest belief that everyone is an act of poetry. Every human being is both poem and poet. You are the only one who will ever be capable of living, writing, and speaking the poem that you are, so speak it proudly and honestly. Listen passionately to the poems lived by others. Know the value of both.
---