Education and Early Childhood Learning

Adrienne Carriere
June 2014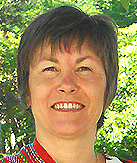 Home Community:
San Clara, Manitoba
Cultural Identity:
Metis
Current Position:
Program Director, Access & Aboriginal Focus Programs. University of Manitoba
Education/Training:
B.S.W. – 1995,
P. B. C.E – 2000,
M.Ed. - 2006
Roles/Responsibilty:
As program director, I have the pleasure and honor of working with many partners to develop community-based educational programs that are unique and relevant to their learning needs. I have plenty of opportunities to spend time in the community talking with other educators about what we can do together to support our students to access and successfully complete their post-secondary programs. Prior to being a program director, I was an academic counsellor in the University of Manitoba Access Programs for twelve years. In this role, I assisted students transition from their communities to the university, worked with them on career planning, took on the role of advocate if they needed assistance and helped them with study skills, exam preparation and navigating the large university system. I was able to develop a strong understanding of the many strengths our students brought to their university experience and was also able to identify many areas where we, as a post-secondary institution, needed to work to integrate more effective and culturally relevant supports. It was through the students' courage and sharing that I am better able to work with community partners to facilitate educational programs that are relevant to their needs.
"Be kind and patient with yourselves and others and embrace change as an adventure."
What obstacles did you face and how did you overcome them?
As a single mom of a special needs child, I moved from the small Metis community of San Clara to attend university at the age of twenty-nine. It was a very scary time in my life as I left behind my family and community supports and was alone in a city that seemed overwhelming to me. I was also tasked with the responsibilities of accessing the supports and resources necessary to ensure my son received the best care possible. As the first person in my family to achieve a post-secondary degree, it was sometimes difficult to balance the many changes. In addition to caring for my son and fulfilling all of the demands of being a student, I had to work two jobs to pay the bills and provide for us. I am very grateful for the supports of the University of Manitoba Access Programs, my peers who offered endless amounts of inspiration, my friends who lightened the load and the many Elders who encouraged me to stay focused on my goals and provided me with the love, kindness and endless inspiration when I needed it the most.
What or who inspired you to really go after the profession you are
in now?
My late mother was always my inspiration and it was her strength, perseverance and kindness that helped me to achieve all of my dreams – big or small. She was a teacher prior to marrying my father and consistently talked to me about the importance of education and the opportunities it provided. My son, Jeremy inspired me to return to university to pursue a Bachelor of Social Work. I quickly realized that if I was to provide a good life for him, I would need to further my education. I had a lot of respect for some of the social workers who were working with us and it was through their mentoring and encouragement that I decided to return to school. My dear friend, the late Bill Alcorn encouraged me to pursue a Masters' degree in Education. He was a strong role model, mentor and advocate for our students in the Access Programs. Through his counsel and the strength, courage and determination I witnessed with the many students I worked with, it was a natural fit for me to complete the M.Ed. with an emphasis in Aboriginal adult education.
Message of Encouragement:
Stay strong in who you are as Indigenous students and hold strong to your identity wherever your educational path may take you. Be kind and patient with yourselves and others and embrace change as an adventure. Be empowered to share your visions and voices as you have as much to teach as you will learn. Many will benefit from your knowledge, skills, experiences and cultural values and traditions. You bring strong gifts to any educational experience and those are what will help you achieve all of your dreams. You are an inspiration, role model and mentor for many who will come after you so let your leadership abilities shine and contribute to your communities in a way that is positive and meaningful.
---