Technology Education
Senior Years Technology Education Program
The Senior Years Technology Education program consists of 16 compulsory credits and an approved cluster of 8 to 14 compulsory technology education credits.
Students wishing to graduate from a Senior Years Technology Education Program must fulfill the minimum 30 credit graduation requirement. A cluster of technology education courses must be an approved group of 8 to 14 department developed and/or approved courses which facilitate the transition from school to work.
The framework for structuring the credit courses and clusters are outlined in the Senior Years English Technology Education Program: Senior Years Graduation Credit Requirements.
---
Technical-Vocational Education Overview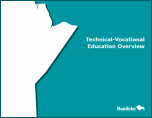 Technical-Vocational Education Overview (

1.78 MB)
This document provides the philosophical and pedagogical underpinnings for the development of curriculum and the teaching of courses in the Senior Years Technology Education Programs (Technical-Vocational).
Technical-Vocational Education Curriculum Implementation Dates (

323 KB)
---
Exploration of Technical-Vocational Education: Manitoba Technical-Vocational Curriculum Framework of Outcomes
Grade 9 Exploration of Technical-Vocational Education (Draft 2016) (

119 KB)
Manitoba Technical-Vocational Curriculum Framework of Outcomes
---
September 2017 DRAFT Documents
August 2015 DRAFT Documents
Networking and Cyber Security (is a new TVE subject area)
July 2013 DRAFT Documents
Aircraft Maintenance Technology (is a new TVE subject area)
Plumbing and Pipe Trades (is a new TVE subject area)
---